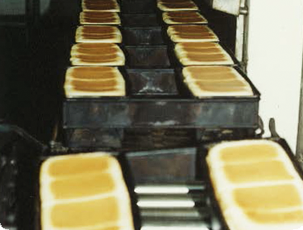 Food Coatings
Panko | Conventional Crumb | Predust | Batter
For crumb and batter inquiries please contact us.
Panko
Panko is a traditional Japanese breadcrumb shaped in an elongated splinter. The spiky nature of panko creates great aesthetic appeal and it is renowned for its light and delicate but crispy mouth feel. Conventional breadcrumbs are typically smaller and rounder in shape. Panko generally has a lower oil pick up than most other bread crumbs which makes it well sought-after.
With the gaining popularity of food television shows panko has become an increasingly popular ingredient in New Zealand. 
Conventional Crumb
Conventional crumbs are produced in a standard bread oven as opposed to a resistance oven. The bread is cooked by convectional heat, just like a normal loaf of bread. Conventional crumb is the most common crumb manufactured and utilized by commercial manufacturers in New Zealand and Australia. Our Australian plant is a conventional plant, which currently produces over 70 functionally different crumbs.
Crumbs range from very fine to very coarse and can incorporate interesting ingredients. The crumb can be developed to perform certain functions.
Predust
A predust is used to ensure a better adhesion occurs between the substrate (typically a protein like fish chicken or meat but could also be ice-cream or a vegetable) and the batter
Predusts can also be used as a flavour carrier as certain taste flavours may be lost during the cooking process in the outer crumb or batter.
Batter
A batter is a liquid form of food coating on the outside of a substrate. Batters can be used with or without a predust. Our batters:
Adhesion Batter: is used in the coating process to as the media between the substrate (e.g. fish or chicken) and bread crumb. The adhesion batter literally acts as an adhesive, giving the bread crumb something to 'stick' to and also offers the opportunity for further development of flavour and seasoning.
Tempura Batter: The term tempura originates from Japan and refers to a deep fried light batter. Tempura batter gives a light, crispy and sometimes seasoned character to a product. It is widely used on proteins such as fish, pork, chicken and beef. It can also be used on vegetable and formed substrates, like potato croquet and fish cakes.
Batter Wash: adds moisture to the substrate so that it will pick up more predust. Basically it is the same as an adhesion batter, but with more dilution and is used earlier in the coating process.