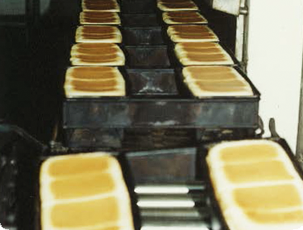 Careers
We support many of our employees to obtain formal qualifications in the bakery trade.
 NZQA Certificate in Trade Baking (Plant) (Level 4)
Vacancies 
 Bakers Assistant 
We have an exciting opportunity for a motivated and hard working person to join our Gisborne based Bakery, who have been baking fresh bread for our region for over 100 years. Lot's has changed over the years, but the creation of fresh products to satisfy our customers remains our focus as we bake daily for our local customers. You will be trained, and required to work a roster across the bread manufacturing processes, operate equipment and complete process quality assurance checks.  You will also assist in delivering accurate and complete documentation as well as delivering quality to the required Food Safety, GMP and Hygiene standards. This fulltime position currently operates during the hours of 8am until 5pm, but due to seasonal demand additional hours may be required.
We have a strong commitment to our Health & Safety culture, and our staff all embrace our Company Vision, Mission and Values.
Key accountabilities of the role include:  
Weighing up dry and wet ingredients
Operate processing machinery
Ensure all equipment is operated according to site standards
Complete daily production sheets
Actively maintain Food Safety, GMP, cleaning and hygiene standards
Report and control any unsafe/out of specification condition including equipment, process, raw materials or product, ensuring prevention of release of defective material
Function as a team member and deliver individual performance that contributes to the team success
To be successful in your application, you will have:
The ability to work independently and as part of a team
The ability to work in a physically demanding role
Good numeracy and literacy skills
Excellent communication skills
A positive attitude
Clear and tidy handwriting
Be part of a roster to cover our baking requirement
Pass our pre employment Drug test
The right to work in New Zealand
If it sounds like you, complete an electronic application form by clicking this link and email your C.V. with two referees to The Plant Manager (click the link for the email address)
Applications close April 2nd 2021