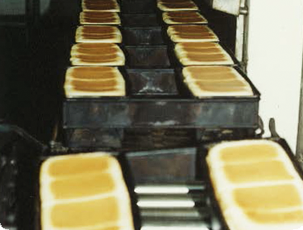 Our Story
Walter Findlay history retold by family.
Scottish origins
The Findlay brothers: (from left) John, Frank, George and Walter
The original Walter Findlay was a Seed and Grain merchant. He had a store named Walter Findlay Ltd in the town of Peterhead in Aberdeenshire at the Northern end of Scotland.
Walter and George were born into a family of six sons and two daughters in the village Hatton of Fintray in Aberdeenshire. Their father William Findlay was the Master Meal Miller at the Mill of Fintray.
It seems that Walter was persuaded to move to New Zealand by his elder brother George. George was the first Findlay son to be involved with baking bread. It is likely that Walter's change from a merchant to baker was influenced by George.
The family settles in NZ
George left school at 10 years old to drive a baker's cart delivering bread. He then apprenticed to the baking trade at a bakery owned by a Mr. Summers. At 19 years old he worked on a ship transporting supplies to the Boer War in Africa. During this time he met New Zealand soldiers who told him what a wonderful place New Zealand was to live. George's bread baking skills and the men he met during the war were to be life-changing factors for the entire Findlay family.
Inspired, George immigrated to New Zealand arriving in Timaru in 1903. He built a small bakery in Maheno in Dunedin. Two years later he built another bakery with his brother Frank in Morning Side, Dunedin. Together they baked bread and delivered by horse and cart, before George left and purchased a bakery in Hastings. George must have been a persuasive man because around this time the remaining members of the Findlay family moved to New Zealand - all except the eldest brother, a scholar named William, who went on to receive an MBE from the Queen for his research on the fertility of soil in Scotland.
After the eldest sister Mary Jane arrived in New Zealand she married a baker from New Plymouth called Alexander 'Aldie' Forbes. The youngest sister Williamina 'Dolly' married John Shepherd who ran a successful tearoom in New Plymouth. The other brother John settled in New Plymouth as a farmer.
1913
On the 19th of June in the year 1913, Walter, his wife Bella and their sons Douglas and Walter, nicknamed "Wattie", left Scotland on the ship 'Waimana' bound for New Zealand.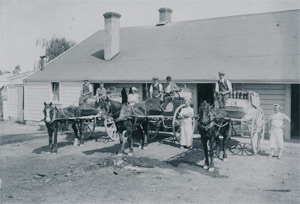 The horse's carts are loaded with bakery goods
outside the Sheehan St bakery for delivery to Gisborne
customers.
A family business in Gisborne
Walter and Bella first arrived in New Zealand in August 1913. They settled in Gisborne where Walter was a confectioner with a small goods bakery. He made a variety of delicious baked goods and also made an assortment of beautiful gourmet wedding cakes. They had a tearoom and shop on the main street called 'Findlay's tearooms'. The tearooms and shop were in a rented building on Gladstone road, with the small goods bakery out back.
The first bread bakery ran by Findlay's in Gisborne appears to be the bakery Walter had in Sheehan Street. It is believed to have opened between 1914 and 1917. Bread was made here and then delivered by at least three horse and carts. Walter's brother in law, Alex Forbes worked here in the bakery for some time.
 In 1917 Walter purchased Oatridge and Veale's bakery on Gladstone road. This bakery had originally opened its doors on the 1st May 1885. It is believed that by 1925 all of the original Walter Findlay businesses were well established which enabled him to purchase the well set up Hastings bakery from his brother George around 1928.
Persuaded by Frank, George sold his business to Walter and moved his family to Auckland where they opened a bakery selling Vienna Bread. It turned out to be a very successful move. As not only did his Auckland bakery take off - it possibly saved his life and prevented him from ruin.
1931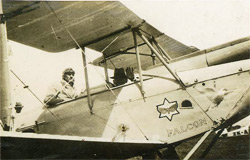 Walter Findlay pictured in a moth falcon aircraft. Later Walter was to die after the plane he was travelling to Napier in crashed.
Tragedy strikes twice
In the late morning on February 3rd 1931, three years after Walter had purchased the Hastings bakery, the 7.8 magnitude earthquake struck Hawkes Bay. The earthquake destroyed the bakery's west wall, halting bread production indefinitely.
Sadly for the Findlay family the Napier earthquake also set in motion further tragedy. Five days after the earthquake, Walter boarded a Dominion Airways monoplane to fly from Gisborne to Hastings. He had been back and forth between the two cities managing the damaging effects of the earthquake on the Hastings Bakery. On February 8th the plane stopped in Wairoa to deliver post and telegrams. During take-off from Wairoa a strong wind and pilot error caused the plane to plummet nose first into the ground from 250 feet.  Walter, another passenger and the pilot were all killed in the accident. Walter was 51 years old.
1932
Bella and sons Douglas and Wattie were left to carry on Walter's baking legacy.  Following the double tragedy the Hastings Business was fixed and run under a partnership. It was later sold to the partner in the 1950's. In the mid 1930's a bread bakery was built on the land in Grey street where the delivery horse's had been stabled. In 1932 Wattie and Douglas saw the business duly incorporated and named Walter Findlay Ltd in honor of their father.
Third generation
In 1937 Wattie and his wife Molly had their first son; he was named Walter George Findlay. Their other children were named Elizabeth, Judith, and John. Wattie and Molly also lost a child, four month old Margaret, who died of whooping cough.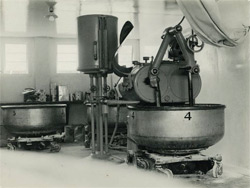 Mixing machines in the original Grey St building
One of Walter's earliest memories is of the original small goods bakery at the back of the tearooms in Gladstone road. As a young boy it was always his ambition to work in the bakery. He left school at the age of 16 to start his baking career. Walter was naturally gifted like his father when it came to engineering, and despite no formal training was the one who fixed the bakery machines when they broke down. He was talented at designing and building new equipment. In 1965 Wattie's nephew/Douglas's son Richard also joined the bakery.
During the World War II years austerity measures were in place with rations on flour and other ingredients.  Bakeries had to reduce waste and as a result local bakers started Gisborne Bread Deliveries. All the local bakeries would sell their product to Gisborne Bread Deliveries who would on-sell the bread to customers. Local bakeries involved were: Walter Findlay Ltd, Chas Mills Ltd, P. Munro, Smith Makaraka, Lance Te Karaka, and Mick Torrie (Irresistible).
Over the next few years all the bread bakeries would eventually sell up to Walter Findlay Ltd or Chas Mills Ltd.
Grey St bakery grows
A second building went up at the Grey St bakery in the early 1950's to house the small goods bakery (previously at Gladstone Rd), and new offices. That site is the head office of Walter Findlay Ltd today. In the 1960's a building was constructed to install a new oven.
By 1961 Walter and his wife Yvonne had two children Gael and Walter David. Just like his father, 'David' had a great desire to work in the bakery and his first job as a boy was mowing the lawns outside Grey St. David also took after his father and grandfather in his engineering capabilities. Walter taught David to weld at about the age of 12 and he spent hours practicing after school.
1970
In 1970 there were only two bakeries left in Gisborne; Walter Findlay Ltd and Chas Mills Ltd. It was also around this time that the shop, tearooms and small goods bakery were closed as it seemed that the company's future lay in the production of bread.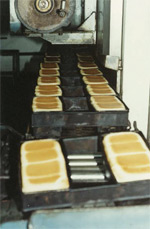 The first loaves of bread appear seconds after they have been baked after the automatic baking plant was installed in the 1970's.
Price controls and subsidies dating back to World War II were removed from bread in the mid 1970's, effectively opening up the market. By this time Wattie and Douglas had retired and cousins Walter and Richard were running the business.
The bakery soon had a revamp. Walter designed and built the majority of the new bread factory with the help of his teenage son David. David had already been using his welding skills to help build conveyors and bread cooler trays. A new Baker Perkins Oven was installed with help from an Auckland team. Walter proudly remembers the astonishment of the Perkins engineers when they saw that David's skills were better than that of their own apprentice.
Around this time Walter designed and built an automatic bread pan stacking machine. Bakers from around the country visited to see how it was done. It worked in the bakery for a good 15 years.
In 1980 Walter Findlay Ltd and Chas Mills Ltd made the decision to join Quality Bakers -a co-operative which regionalised NZ into 'baking areas'. It developed top selling brands and became professional in the development of its people and systems. It fast became the biggest bread player in the New Zealand market.
Fourth generation
During school holidays and weekends David worked night shifts at the bakery and when David finished high school he spent a year working there. Then in 1982 David moved to Auckland to complete a NZ certificate of Mechanical engineering. At the end of that year he returned to Gisborne to gain more experience in the engineering field.
That same year Richard suggested that he or Walter should buy the other out. After getting their affairs in order with the help of his accountant brother in law Jack, Walter and Yvonne purchased Richard's shares. Richard was soon headhunted to work for Quality Bakers and went on to be yet another very successful Findlay baker. David joined the management team at the end of 1982 after Richard had left. Douglas and Wattie passed away in 1983 and 1984. Walter and Yvonne purchased the remaining shares of the company from the family in 1988, becoming the outright owners of WFL.
 
In the late 1980's Walter and Rory Mills of Chas Mills Ltd, purchased the bread supply of Wairoa from Osler's Bakery and started supplying the town seven days a week.
In 1989 Walter Findlay Ltd bought a building in Lytton road with the vision of expanding the bread bakery. Soon after, with the opening of national supermarket chains and the arrival of a new national competitor from outside the Gisborne district, it became clear that Gisborne only had room for one Bakery and the expansion was halted. In 1992 Walter Findlay Ltd purchased Chas Mills Ltd and many of the long-term Chas Mills staff joined the Walter Findlay team. The amalgamation of employees increased Walter Findlay ltd employee size to 35. By the early 2000's the figure for the Gisborne bakery and office staff was at 80.
1990
In the early 1990's David and his wife Nickkie started their family. They have three children; Caleb, Alyx and Connor Walter.
Food coatings
The opportunity arose for the company to extend into manufacturing food coatings such as panko and conventional crumb, batters and predusts. David was the key driver behind the emergence of the food coating aspects of the company.
In 1995, the company began developing a bread crumb technology called 'Electrode Baked'. This technology was originally intended for the Lytton West building. Instead Walter Findlay Ltd entered into a joint venture with Sealord Processors in Nelson in 1996. The Electrode Crumb Plant was installed on the Sealord site in Nelson and became operational in 1997. 
The plant was designed by Walter Findlay III. Originally it was built to supply Sealord Processors with Fresh Panko. However an opportunity arose to provide a full system coatings service and in 1998 David installed a powder blending operation. Walter Findlay Ltd is still Sealord's preferred coatings supplier. Through the Nelson Crumb plant Walter Findlay Ltd also began to supply Panko and food coatings to the wider New Zealand market.
A second electrode crumb plant was commissioned into Gisborne in 1998 at Lytton West. It was eventually moved to the newly purchased Spada building in Kahutia Street, which is closer to the bakery and head office. The Spada plant produced both electrode and conventional crumbs. The Lytton west building was later sold.
2001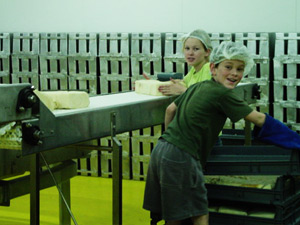 Connor and Alyx help stack bread during a machinery trial run in Kelso.
In 2001 Walter Findlay Ltd developed a Technical Department in Gisborne. This department was moved to Auckland in 2002 and now includes a great Food Technologist team.
International expansion
Kelso is the name of the third crumb plant established by Walter Findlay Ltd. Kelso is in Bathurst, New South Wales, Australia.
In 2002, after discussions with food manufacturer Simplot Australia Pty Ltd, Walter Findlay Ltd built a crumb plant behind the Simplot site in Kelso. It was a significant milestone in the company's development and marked its entry into the international market. Much of the crumb made there is used in Simplot's products. David designed the conventional crumb plant and relocated his family to Australia while he installed it.
Many components of the Kelso plant came from the Chas Mills Ltd bread plant. Walter went to the Kelso site to help fine tune the machinery after installation. Walter Findlay Ltd also sent many Gisborne staff to Kelso to help with certain stages of the installation.  During trial runs it was often all hands on deck with wives and children sometimes recruited to help run the plant. Walter's grandchildren Alyx and Connor were put to work stacking bread and tins.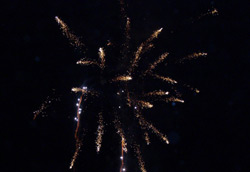 The Walter Findlay Ltd Quality Bakers of Gisborne "Fire in the Sky"
Also in 2002, the company took on full sponsorship of the Annual Gisborne family fireworks evening on New Year's Day. The event was facing cancellation due to loss of funding. Walter Findlay Ltd believed that by picking up its sponsorship it could give something back to the community that supported the company for so long. In 2004 the event was renamed The Walter Findlay Ltd Quality Bakers of Gisborne "Fire in the Sky".
2005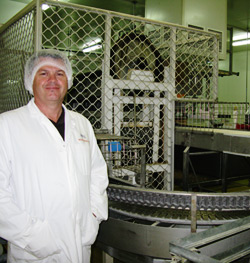 David Findlay with completed Kelso Plant.
  In 2005 Walter & Yvonne invited David to become a Director of the company.
The Kelso plant supplies crumb to Simplot as well as external sales to other users in Australia and New Zealand. In 2008 a powder blending facility was installed in the Kelso plant to provide full coating systems for Simplot at Kelso. Here we produce predusts and adhesion batters. In 2011 this plant began to supply a gluten free coating to the Simplot Potato Processing facility in Tasmania. This unique coating development by the WFL technical team is being marketed as the "crunchiest potato wedge in the world".
In 2010 the Gisborne dried panko plant was closed and the Nelson plant was expanded with much of the Gisborne machinery to become the company's specialist Panko plant. The capacity of the plant was lifted by 50% and in 2011 a redesigned fluid bed dryer was installed resulting in the highest quality dried panko.
In 2013 the Walter Findlay Family celebrated 100 years of business in Gisborne NZ. The celebrations extended to employees, customers and local community with the annual Fire in the sky event being the best, biggest and brightest seen yet. It was in this year of celebration that the company grew again with Caleb and Alyx, two of David and Nickkie's children joining the company.  
The company announced that it had signed a deal with JR Simplot company in the USA and a separate new company Findlay Food Coatings Ltd was set up to work in that country. 
The new Caldwell Idaho Facility commenced operations 
In early 2016, Connor joined the family business as a project improvement engineer. The decision was taken to relocate our Nelson food coatings plant to Dunedin and happily, some of our Nelson team moved with us to our new facility which commenced production in November of 2016. 
 The Company continues to go from strength to strength and provides permanent and casual employment to 90 people. We have very developed Administration, Technical, Baking, Distribution and Sales, Crumb/Powder-Blending, Production and Engineering teams. 
In 2018 we undertook a strategic direction conference, bringing 20 people from across the organisation together to determine our company's vision, mission, and values.  These can be found here. 
2020
 Walter Findlay Ltd is a family business and continues to be very much a family affair. Walter and Yvonne maintain an active role in the company through their Director's roles in WFL. David continues his role as the Managing Director of WFL assisted by Nickkie whom helps to manage the business from a corporate level as Management Executive, in addition to their roles in the USA food coatings business.
Caleb is the company group's Health and Safety manager, Alyx manages the company's internal communication as well as looking after our NZ Food Coating accounts and Connor has taken over as Gisborne Plant Manager. 
In 2020 the Findlay Leadership team, made up of three generations of Findlay family members, was created to help provide direction and leadership using our collective knowledge on our journey to achieve our vision, using our mission and values to navigate onwards.
Note: The Walter Findlay Ltd and Family History was researched and written by Alyx Findlay in 2012. The research process was greatly aided by family history research that was conducted by Jack Shallard. This combined with further in-depth research of archived newspaper articles, adverts, WFL documents, photos and memories allowed us to better understand the Walter Findlay Ltd story than ever before.