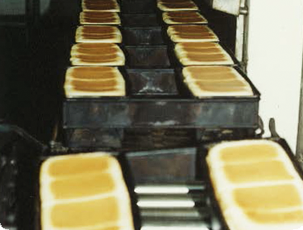 Locations
Gisborne | Auckland | Dunedin | Kelso
Walter Findlay Ltd places a huge emphasis on Food Safety, Personal Safety, Quality systems and compliance with those systems by our Manufacturing teams. The company is HACCP accredited, the Gisborne Plant is WQA and Codex accredited and the Australian Plant is SQF accredited. We are constantly asking ourselves "What is best practice?" 
Learn more about our plant locations and their specializations in New Zealand and Australia.
Gisborne, New Zealand
Head office and our retail fresh bread bakery can be found in Grey St, Gisborne, on the North Island's East Coast. The Gisborne head office is our global hub, with an excellent senior leadership team guiding the company forward. Onsite also is our engineering facility that designs and builds much of the technology used in our bread, batter and crumb plants.
The office, engineering workshop and bakery are located on land originally purchased for the Horse Stables when our bread was still being delivered by Horse and Cart.
The initial bakery building was built in the late 1930's and like so many buildings built in the aftermath of the 1931 Napier earthquake, it was created in the Art Deco style. There have been large changes and additions throughout the decades, the most recent being in the last few years that saw the extension of the factory building to house a new cooling, slicing/packing and dispatch system.
As one of the last few privately owned regional commercial plant bakeries left in New Zealand we enjoy a high market share in our region. Our bakery produces the majority of bread for the Gisborne and East Coast area.
Producing so many brands of bread used to make it difficult for local customers to support us. Now, with our unique and well-loved local marketing campaign which recommends locals buy bread from the blue trays, the company enjoys huge local support.
In addition to bread baking, the company distributes a large amount of product that is sourced through the Quality Bakers Group and others. We supply in our Distribution area over 200 individual stock keeping units (SKUs), of which we manufacture around 70.
Auckland, New Zealand
Research and Development is an integral component of Walter Findlay Ltd. Our Technical R&D Centre in Auckland, as central to all our sites as possible and this is where our team creates innovative food coating solutions for our customers.
Products such as predusts, adhesion batters, tempura batters and crumbs have their own requirements and our innovative team craft and evaluate new ways of achieving these requirements for our customers, e.g. new and powerful flavour impacts, durable crunchy and crispy textures as well as natural, healthy and free-from claims. We are constantly looking for the next big innovation.
Dunedin, New Zealand
Dunedin will be home to our Electrode Bake fresh Panko Crumb and powder blending plants. From here we supply food coatings including fresh panko crumb, adhesion batters and predusts to the New Zealand market. The plant was designed by David Findlay and is being built in-house by the Findlay Engineering team. There are also plans to include a specific Gluten Free operation at this location in the near future.
Kelso, Australia
After discussions with Australian food manufacturer Simplot Australia Pty Ltd in 2002 Walter Findlay Ltd installed a Crumb Manufacturing Plant, designed by David Findlay, at the rear of the Simplot Kelso site to supply crumb directly into their store.
In 2008 a powder blending plant was installed to provide full coating systems for Simplot Kelso and also currently supplies coating systems into their potato processing facility in Tasmania.
Today our Kelso operation produces over 70 functionally different crumb varieties for commercial customers in Australia and New Zealand, as well as supplying an extensive range of full coating systems including pre-mixes, predusts and different styles of batter.