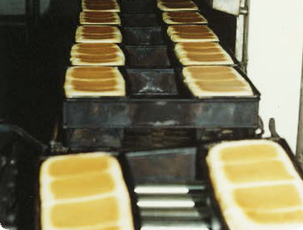 Careers
We support many of our employees to obtain formal qualifications in the bakery trade.
 NZQA Certificate in Trade Baking (Plant) (Level 4)
Vacancy: Driver, Cutomer service and Merchandising Position 
 Do you enjoy Driving, Customer Service, merchandising, distribution of Food, and providing exceptional customer service?
Are you wanting certainty and job security?
Our local Family Business requires an energetic person to join our team and provide a vital role in our business, delivering locally baked fresh bread and other products to the Wairoa and East Coast regions.
To provide the freshest bread "in the Blue Trays", you will be required to commence work at 1am and work through until approximately 11am. We have a growing distribution range, which offers a variety to support the success of our customers with products and new opportunities for us all to grow.
We roster our staff over 7 days, providing a minimum of 40 hours per week, this is usually provided over a working roster of 4 days per week, but there are also opportunities for additional hours.
We will train you, we will reward you well, and provide a very safe working environment.
To join our fun loving friendly team, you will require:
A minimum class 2 Drivers Licence
A forklift licence would be an advantage
Experience with hand held technology would be an advantage
Physical fitness as the role is demanding
A Police check
Pre Employment Drug Test
Download an application form here. 
Applications including 2 referees should be addressed to:
The  Managing Executive Walter Findlay LtdP O Box 268Gisborne
Or email here 
Vacancy: Fulltime Bakery Position  
We have an exciting opportunity for a motivated and hard-working person to join our Gisborne based Bakery, who have been baking fresh bread for our region for over 100 years. Lot's has changed over the years, but the creation of fresh products to satisfy our customers remains our focus as we bake daily for our local customers. You will be trained, and required to work a roster across the bread manufacturing processes, operate equipment and complete process quality assurance checks.  You will also assist in delivering accurate and complete documentation as well as delivering quality to the required Food Safety, GMP and Hygiene standards. This full time position currently operates during the hours of 8am until 5pm, but due to seasonal demand additional hours may be required.
We have a strong commitment to our Health & Safety culture, and our staff all embrace our Company Vision, Mission and Values.
Key accountabilities of the role include:
Weighing up dry and wet ingredients.
Operate processing machinery
Ensure all equipment is operated according to site standards.
Complete daily production documentation
Actively maintain Food Safety, GMP, cleaning and hygiene standards
Report and control any unsafe/out of specification condition including equipment, process, raw materials or product, ensuring prevention of release of defective material.
Function as a team member and deliver individual performance that contributes to the team success.
 About You
 To be successful in your application, you will have:
The ability to work independently and as part of a team.
The ability to work in a physically demanding role.
Good numeracy and literacy skills.
Excellent communication skills.
A positive attitude.
Clear and tidy handwriting.
Be part of a roster to cover our baking requirement
Pass our pre employment Drug test
The rite to work in New Zealand
Download an application form here.
Applications including 2 referees should be addressed to:
The Production ManagerWalter Findlay LtdP O Box 268Gisborne
Or email here